Wareham family history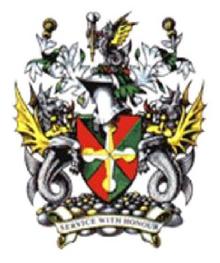 Crest of the County of Dorset. The Warehams are Dorset folk and have been for generations. "Dorset men don't sheame their kind" - William Barnes.
Origins of the Wareham name - see the 'related documents' page for a paper where I discuss the possible origins of the name.
Wareham family history - I was born and raised in Shaftesbury in Dorset and I can claim to be a true Shastonian because my father was also born in the town. I was born in the old maternity unit on Bimport Road in Shaftesbury. My father, Rodney Wareham, has resided in Shaftesbury since he was born and has had a number of occupations but has for most of his life been a window cleaner. Affectionately known by friends (and most people in Shaftesbury) as 'Rocky' he was until recently working for my uncle Nigel in his window cleaning business. Rodney's dad, Sidney Ernest Wareham, also held many jobs. He was a shop assistant in the late 1930's, after the war made spurs for his father in law in his thatching trade and in later years was a gardener. Sidney and his wife Violet lived at 13 Christy's Lane in Shaftesbury and this was the family home for many years and where thirteen sons and daughters were raised. Before that they lived at Butts Knapp in Shaftesbury.
1890 to 1945. World War Two - four brothers were in the armed services in the war. Two, Sidney and Frank, were in the RAF. Sidney (1156911, rank Leading Aircraftman) was at North Weald airfield (see links) in Essex towards the end of the Battle of Britain, then with the 89th squadron (see links) of the RAF in North Africa and Ceylon (see also Wareham family tree link). Frank (1404503, rank Corporal) was in 2962 RAF Regiment squadron (see links). The affect that the war and climate had on Frank and his brother George is indicated by the story that they both did not initially recognise each other whilst sitting near each other in a mess in India until they started talking. George was in the 2nd Dorsetshire Regiment and fought in Burma with the 14th British Army. The Dorsets were involved in the vicious fighting with the Japanese in Burma which is well recorded elsewhere. Reginald joined the services before the war and was a despatch rider with the North Staffordshire Regiment. Reg became a Lance Corporal in the North Staffs and later joined the Military Police. The North Staffs formed part of the British Expeditionary Force that attempted to stop Hitler's advance through Europe. Reg and his Regiment were eventually evacuated at Dunkirk. Reg also served in Northern Ireland during WW2. The four Wareham brothers and their sisters were all born at Coombe which is just over the Wiltshire border near Shaftesbury. In the 1890's their father, Walter George Wareham, was the first in generations of Warehams to move to the Shaftesbury area. Walter worked at Coombe House, Higher Coombe as a gardener/groundsman. The house was originally built as the private residence of Mark Hanbury Beaufoy (who made his money in the vinegar trade in London and was for a brief time a Liberal MP) and I believe that it is because the Beaufoy's had their main residence in Iwerne Minster (the next village up from Shroton) that the job opportunity may have come to the notice of young Walter some time between 1891 and 1900. Work in the village must have been hard to come with the changes of traditional English village life continuing to take hold. The trend of 'forcing water uphill' as Thomas Hardy called it of people moving from rural areas and villages to find other work was really kicking in but at least Walter remained close to rural society with his new job. The house where he worked became a hotel in the 1920's when owned by the Wormald family (see photo's for the Wormald's with Walter), then a rest home for recuperating USAF bomber crew airmen in the war before becoming a convent school and is now known as St Mary's. Walter and Harriet moved to Landsley Cottage on the grounds of Coombe House in the mid-1920's, this is down a road to the right of the Garage immediately outside Shaftesbury on the A30 road. Prior to this they had lived at Swan Lake Cottage in Middle Coombe. Walter eventually died of blood poisoning from a pesticide sprayed onto roses whilst working on the grounds of the house where he had worked for almost 50 years just before the end of WW2. He was bedridden from about 1942 to 1945 and he is buried in Charlton churchyard near the stone cross by the side gate however the grave (in which Harriet was also later buried) is now unmarked. Although little remains of the history of Walter's links with the former family home of Shroton, his daughter Kath says that he still used to regularly visit Shroton Fair each year and would stay overnight probably whilst visiting relatives. Walter's wife Harriet was born a Stainer and they were from Shaftesbury. My great great grandmother in the Stainer line was a Colgate. Maybe we are related to the toothpaste people? The Stainers and their associated branches seem to have had a strong connection to the town of Shaftesbury dating back generations at least as far back as the 1640's and the time of the Civil War. ThroughHarriet's mother Sarah Love there is a connection to the Dodington family of Mere. They were a gentry family with noble ancestry who were destroyed by the civil war and it's aftermath as well as the economic realities of the time with a reletively small manor at Woodlands (see Dodington spreadsheet under 'files').
1800 to 1890. Walter's father, George Wareham, was a labourer, having been recorded in various census records as a general labourer, road labourer and ironfounders carter, in Shroton (or Iwerne Courtney as it is otherwise called) and Blandford. The family may have been hard up in 1871 as they are recorded in the census as being in Shroton workhouse. However no Wareham researcher has found official records of the existence of a workhouse in the village, local people have referred to the red brick building near the Cross (see pictures three page). Whether this was a traditional poor law union with all their practices and regimes is unclear. George was in employment at the time as a road labourer, which was unusual for most requiring the attention of a workhouse. George's wife Jane, Walter's mother, was a Russell and her father was the village butcher in Shroton for many years. See the pictures page for a picture of a memorial to three of George and Jane's children who died in their teens in Shroton. It is through Jane Russell that I can trace anothert line of noble ancestry from medieval times (see the Wareham family tree, under Blachfords, and 'interesting lines'). George Wareham and his brother James are recorded as living with their grandparents Robert (1775 to 1849) and Mary (nee Hayward) in Shroton in 1841. Robert at that time was an agricultural labourer in Shroton and he had to rely alot on parish poor relief for help including rethatching his home due to a leaking room - a year after the request was made. George's mother Susan eventually remarried a man from Blandford although after this we can find no trace. George and James were the illegitimate children of a yeoman, or more likely a gypsy, called James Small. At this point the Wareham name took the maternal link as George and James are both recorded as being Mr Small's offspring. Given that they were baptised 5 years apart one can only guess at why this relationship did not lead to marriage and reckon at the scandal this may have caused in those times. Susan vanished from the village after George and James were born but was back claiming poor relief from Shroton a little time later. It is for this reason that I think that James Small was a gypsy rather than yeoman - had he been a yeoman the poor law overseers would have forced him to provide for the children but there is no evidence that this happened. As such I think she vanished for a time with James Small and for whatever reason returned to her family village afterwards. There is also no evidence of a James Small, yeoman, in or around Shroton at this time, but there is evidence of a James Small, gypsy, who had a son James Crib Small baptised in Shroton just 7 years before George Wareham was born. Shroton was also well known for it's yearly fair and common land which must have attracted travelling gypsy families. More than coincidence I feel and despite the racism and stigma faced by Romany gypsies, personally I would feel proud to claim that line and background.
Pre-1800. Little is known of the stories of the lives of the generations of the Warehams prior to Robert and Mary in terms of occupations and residence. These were Benjamin (1727 to 1802) and his second wife Mary Hiscock (1749 to 1779) and Jonathan (early 1700'ish) and Anne (1698 to 1769). It is interesting to see the Wareham/Hiscock marriage in 1770 that occured again in the 1930's with my grandparents and a Hiscock brother and Wareham sister. The Wareham family would appear to have been relatively settled in the 17th and 18th centuries having been baptised, married, raising several children and been buried in the village from the early 1700's to 1802 and returning in the late 19th century after a brief time in Blandford. It is clear though that these were rough times for the family because Benjamin lost his first wife and many children of Jonathan/Anne and Benjamin/Mary and Anne died in infancy. Manorial records may record the names of the Wareham family on whose land they probably worked. One of the main estates in the area at the time was Ranston which was held by the Ryves from 1545 till 1781 and then by the Baker family till 1957. As mentioned above with Walter, the Wareham family would have enjoyed the regular 'Shroton' fair (or fayre) that took part every year (normally in late September) in the village and a popular event in the Dorset calendar (see pictures page 3). The Wareham name in the village goes dry at 1700 and there are none recorded in the 1641 Protestation Returns. However there are Warrams (a derivitive) in neighbouring Fontmell. I think it highly probable that the line originates from the Fontmell Magna Warehams and I have speculated about this in my spreadsheet on the family tree page. The Tapper family almost certainly go back in the village of Shroton to the 17th century and possibly even back to the 14th century as there is a 'Tappehare' recorded in the medieval lay subsidy rolls in that parish. It is possible that one of my ancestors witnessed that great Englishman Oliver Cromwell in the village with the 1645 Clubmen rising (see documents). Were any of my ancestors they amongst the 2-4,000 Clubmen on Hambledon who were dispersed by Cromwell and were they amongst the crowd of those he lectured in St Mary's Church afterwards (see related documents page)?