Hiscock family history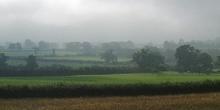 Picture of the farmland at Hunger Hill, near East Stour, in the Blackmore Vale, Dorset. This is Thomas Hardy's 'valley of the little dairies'. The Hiscock family were here in 1841 and farmed in the area for many years.
Origins of the name - Hiscock. The name Hiscock is believed to be derived and modified from the first name Richard. This is from Hich or Hitch which was a pet form of the name Richard, particularly in 13th century Cheshire. In 1891 the name was most common in Dorset, Wiltshire and Hampshire with some Hiscocks in Somerset and Berkshire.
Hiscock family history 1918 to date. My grandmother was baptised Violet Doris Hiscock and her father and mother were Robert and Sophia Hiscock. Violet was born at Tollard Royal and grew up there, then Chitterne in Wiltshire before spending her teens in Shaftesbury. I remember visiting her frequently at her home on Christy's Lane when I was young and she used to babysit for my parents on occasions. She loved children and was a warm, friendly and tolerant lady. Apparently she was a good looking woman in her younger days and throughout her life she liked to make herself up. The whole family were sad and upset when she passed away at a relatively young age after illness in 1985 and I attended her funeral at Mampitts Lane cemetery after the service at St Peter's Church in Shaftesbury. Violet probably met her future husband Sidney Wareham when he was living at Commbe which is just down the road from from Boyne Farm in Cann where Violet lived. Robert Hiscock, her father, was first a farm manager having at one time worked at Canford near Wimborne, then he worked for his brother Willow on his farm at Tollard Royal and then was a farm manager at Chitterne. Robert and his family then lived in the 1930's at Mampitts Farm (or Eastleeze Farm) in Shaftesbury before then going to Boyne Farm. Robert came from a farming family and this livelihood was something with which he would have been familiar. In later life he would become a thatcher, he died in Wimborne area of Dorset where he lived in later days. Sophia, his first wife, is buried in Cann churchyard in Shaftesbury. She was born a Kelly and her family were from the village of Berwick St John just over the border in Wiltshire from where Robert Hiscock was in Farnham/Tollard. Alot of the Kelly family were grooms/stablemen or labourers and apparently worked on the Ferne estate for the Grove family.
1870 to 1918. Robert's father was Francis Rogers Hiscock who with his wife Emily (nee Riman) lived at Rookery Farm, Farnham on Cranborne Chase. Rookery Farm is next to the Larmer Tree Gardens owned at the time by General Pitt-Rivers and which in the 1890's was the scene of many entertainment events which Francis would have attended. My ancestor was certainly at the General's birthday party at the Larmer Tree in 1897. General Pitt-River was a paternalist of the old-school Victorian nature and took an interest in educating children of local labourers and gypsies. Francis was a tenant farmer on Pitt-River's land and we have copies of his rent payments schedule in the late 19th century. One sad story connected with Francis and Emily concerns the sons of their eldest daughter Edith. Both her sons were killed in the First World War both aged 19 but 18 months apart, one in 1916 and the other 1918. There are memorials to Francis George Harris and Walter James Harris on Francis Rogers and Emily Hiscock's grave in Farnham churchyard and this acts as testimony to the affect that the sad loss of these two brothers must have had on the family and local community. Their deaths are commemorated on the Commonwealth War Graves website (see links). Their father Charles was also a local farmer. Francis Rogers Hiscock died aged just 53 in 1903, probably after being kicked in the head by a horse, but Emily his wife would have experienced the loss of the grandchildren in the war and she died in 1923 (when she was living in West Gomeldon in Wiltshire). I do not know how Francis came to meet Emily Riman when he was from East Stour and she from Handley, as these villages are a fair distance apart. However they met when Emily was young and they travelled to the USA to marry when she was just 17 (she lied on her marriage certificate and said she was 22) and he was 22. They then returned to Handley working in the timber trade which he may have worked on in the USA. They later settled at Rookery Farm (a farm with an attachment to the Chase woods and timber trade) nearby where they would remain for the next 20+ years. Robert, their son and my great grandfather, had to finish school aged 12 when Francis died to help her mother with the farm but I don't know how long after 1903 they were to remain at Rookery and when Emily moved to West Gomeldon near Salisbury.
1840 - 1870. Francis Rogers Hiscock was the son of Edwin and Anne Hiscock and he was brought up on Lyde Hill Farm at Stour Provost in the Blackmore Vale. Francis Rogers Hiscock would appear to be named after his grandfather on his mother's side who was Francis Rogers Gray. Francis Rogers Gray was a small farmer in the area and was originally from Tisbury. He and his wife Hannah have a splendid memorial still visible in East Stour churchyard (see Hiscock pics) which is testimony to how well off he must have been and how high up the social scale of the village that the family must have been. The Rogers family of Tisbury, from which I believe the second surname of both the Francis' comes, has an interesting line which goes back to gentlemen farmers in the 17th century and back to gentry families of Goddard and Awbery in Mere (see documents for an essay on the Rogers family). Edwin and Anne Hiscock have a impressive grave at East Stour but less well preserved (see pics). Edwin was evidently successful as a farmer in the 19th century, which was actually a time of agricultural depression. In 1851 he was a farmer of 100 acres employing 3 labourers whilst in 1871 this was 168 acres employing 4 men and 3 boys. By the time his son Elijah took control the farm was 250 acres with 6 men and 3 boys. The family obviously prospered whilst others were failing and possibly bought land as it became available in these difficult times to expand their concern.
1750 - 1840. The Hiscock family farming pedigree is evident from the fact that in 1841 Edwin Hiscock was farming Hunger Hill, East Stour, with his sister Jane. Edwin was just 19 but recorded as a farmer and his sister Jane 20 was on the census as a dairywoman. It is possible that Hunger Hill was either inherited from their father Edward or purchased with some inheritance. The fact that Edward was of wealthy means is evidenced by the fact that he was on the 1807 electoral roll as being resident in Motcombe with freehold in Marnhull. Edward's father was Lazarus Hiscock and in 1778 he held Bleet Farm at Gillingham in Dorset. Beyond Lazarus the Hiscocks appear to be traceable in the Gillingham area by a direct line to the mid-17th century and possibly as far back as the mid- 16th century in neighbouring Mere as the name appears in documents in that area. The progenitor of the Hiscocks of Gillingham and Mere appears to be a Thomas Hiscock who was buried in Gillingham in 1587. For detailed information about the Hiscocks and all the family lines see the family tree and spreadsheet downloadable via the links on the left.