The Helford River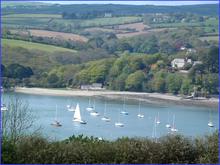 The Helford Estuary is renowned for its beautiful sailing area. The Helford river starts at the village of Gweek as a trickle of water, and runs down until it opens up into a huge estuary just below Helford. The river is wooded on both sides making it a peaceful location, and attracting many sailors each year.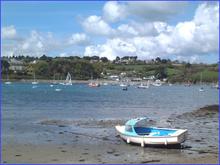 The Helford River sailing Club is a large building with all the necessary mod cons including showers and a changing room, and there is also a restaurant and a bar which is always busy. The social calendar is huge and there is alot of very competitive racing out in the open sea around Falmouth Bay.
After launching it is possible to sail all the way up to Gweek at high tide, or go down southwards past Durgan into the mouth of the estuary and then into the sea.
If you get tired when sailing you can stop at Mainporth beach in Falmouth and drag your boat up onto the sand. You can then relax here before setting off again.
The only problem in the Helford estuary is the tide. It is very difficult to sail at low tide and it would certainly not be advised! Otherwise, Helford is the perfect sailing spot for a quiet, relaxed holiday.
(images courtesy of Stuart Lindsay at: http://www.users.zetnet.co.uk/cornwall/c licks7.html)