Lymington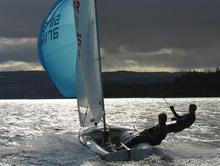 Many consider Lymington as "The Best Sailing in the South West". The Lymington River (where the boats are moored), leads out onto the solent and then the Isle of Wight, where there is excellent sailing.
However, in the mouth of the river the Isle of Wight ferry runs constantly between the island and Lymington. The ferry is big and takes up most of the channel and it is difficult for smaller boats to keep out of its way. This makes small dinghy sailing very difficult indeed and so it is highly reccomended that less experienced sailors do not go out on there own when there is little wind, as it is easy to become out of control and get sucked in.
Lymington also has a bustling sailing club with lots of facilities and a bar. There are photos everywhere as well as records of all the races won etc.
Lymington is a great sailing club if you are experienced enough to steer clear of the ferry. The solent offers excellent wind and sailing around the Isle of Wight is great fun. Lymington is a great place for a holiday or a day trip.
Photo courtesy of IBI sailing