Studland Bay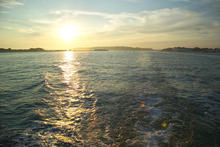 Studland bay is a perfect sailing location for those who wish to do a day trip rather than a holiday. Located within an hour of Salisbury, there is a boat park where an annual berth can be bought. There is also a small slipway leading down onto the beach and then there is a set boat launching area (so that you do not hit swimmers!). However, Studland is in a huge bay with many beaches, and has a chain ferry running across it and so begginer sailors must watch out, but as long as you stay near enough to the beach you do not usually get into trouble.
The wind at Studland is almost always very stable and is usually very good, as the mouth of the bay is fairly open. Sailing up to the top of the bay is great fun, but it is all to easy to go to far out to sea and find one's self quite literally out of one's depth!
There is also a watersports shop at Studland where Laser Pico's can be rented out and further on up the beach there is an ice cream store for calming the storm of after sailing hunger!
Studland is an excellent bay for sailors of all abilities in all types of dinghies. It is quick and easy to pull a small boat up onto the shore and relax or have lunch and launch quickly afterwards. Although there are less facilities at Studland than there are at many other places, the location makes up for that, as it within striking distance of many parts of Wiltshire.
Photo courtesy of freefoto.com