The Camel Estuary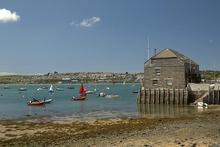 Rock is unanimously considered as a sailors haven. The sailing club (see picture) looks out across the protected estuary to Padstow and the boats lie peacefully on a long sandy stretch raised up above the small beach. The Camel Sailing School is the only one in Rock and a team of young enthusiastic instructors are always ready to help out and give advice. In the club there are changing rooms, toilets, showers, a bar, and a great view of the boats that are on the water. An annual or temporary membership can be bought. The berths are an easy walk from the local hotels and rental cottages and after rigging up your boat you just have to back her down one of the many slipways and you're off!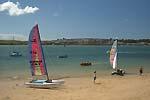 When on the water you can either sail up the River Camel, all the way to the small town of Wadebridge if you wish to, or you can sail out into the open sea past Daymer Bay and venture right round to the surfing beach at Polzeath. (This is only recommended for advanced sailors.) For the tame, however, the estuary in and around Rock and Padstow is a superb area with reliable winds. The ferry running constantly between Padstow and Rock is small and easily avoided if you are observant and make sure that when crossing its path, it is not near the middle of the estuary.
The tide is the only problem when sailing in Rock. It is risky sailing near low tide as the entire estuary is sandy apart from a small stretch of water just off the shore where a few people sail. However, here it is all to easy to scrape one's centre board or rudder. However, sailing is completely safe within two hours each side of high tide.
If you get tired when sailing, one can stop at the long sandy stretch of beach just round a rocky crag from the beach at Rock. This long, beautiful stretch of sand (see above) is rarely visited by tourists as it is difficult to get to by land. However, it is all to easy to sail up to it, drag your boat ashore and then have a rest or a swim before setting out again. As well as being a nicer beach, this beach is far easier to get to than Daymer Bay, which usually has so many holiday makers on it that it resembles Bournemouth beach!
Sailing in the Camel Estuary is perfect for young and old, begginer or expert, and has a huge sailing area as well as a RYA sailing school. It is perfect for a long holiday or a short weekend, andis perfect for children as it has a huge teenager scene!
(images courtesy of The Magic of Cornwall)