Wheelie bins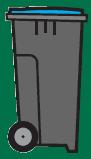 Blue-lidded wheelie bin
Garden Waste Collection Service - from early 2012
From early 2012 Wiltshire Council will be offering all households an optional non-chargeable garden waste collection service.

The service will be optional because some households choose to compost their own garden clippings, and other households do not have a garden and do not require a garden waste bin.

If you would like to have garden waste collected from your household, you will need to register your interest by the 30th of September 2011 so that we can deliver your garden waste bin during the winter of 2011-12.

If you already have a garden waste bin that is collected by the council you do NOT need to register again.
---
BLUE-lidded wheelie bins
The bin has a BLUE lid and it should be used for plastic bottles and cardboard only. i.e. not for other recyclable materials or household waste.

Your blue-lidded bin will be emptied fortnightly on the same day as your present Cardboard and Black Box collections.

Plastic bottles
What plastic bottles will be recycled?
soft drink bottles
milk bottles
washing up liquid bottles
shampoo bottles
household cleanser bottles
Please do not put other plastics in the recycling bin, because there are different types of plastic, some of which are more easily recycled than others. There are also differences in the commercial markets for different types of plastic.

Plastic products carry a number (usually 1–7) in a triangle indicating the type of material they are made from. Types 1–3 are the most easily recyclable.

Bottles make up the majority of all household plastics and are virtually all type 1, 2 or 3. Although other plastic products, for example food trays and yoghurt pots, may be type 1, 2 or 3, many are not. The lorry-loads of plastics sent to the commercial re-processors need to be free from 'contamination' by other types of plastic, therefore the advice is simply to recycle plastic bottles. If the re- processor finds a significant proportion of other plastic products in the load, they are likely to reject it, making everyone's recycling efforts a wasted exercise.

Please help by only putting plastic bottles in the recycling bin.

Plastic waste taken to one of the major household recycling centres at Salisbury and Amesbury can contain any type 1, 2 or 3 plastics as these are sorted on site by Hills Waste staff.

Cardboard
What cardboard will be collected for recycling?
cereal boxes
corrugated cardboard
cardboard sleeves
paper fibre egg boxes
clean frozen food boxes
cardboard tubes (e.g. from toilet rolls or kitchen rolls)
shoe boxes
greetings cards
Please ensure all plastic packaging has been removed and boxes flattened.

What cardboard will NOT be collected for recycling?
take-away food packaging
disposable drinks cups
waxed cartons e.g. Tetra Paks (fruit juice, UHT milk etc)
waxed boxes or packaging boxes containing food remnants e.g. pizza boxes
boxes with plastic windows (unless all plastic is removed)
books
However, recycling skips for waxed cartons are now available at the Household Recycling Centres on the Churchfields Industrial Estate, Salisbury and at Mills Way, Amesbury.
Contact details:

Telephone: 01722 434319 or 434320
email: wasteandrecyclingsouth@wiltshire.gov.uk
Wiltshire Council

NOT plastic bottles or cardboard?
What do I do with recyclable materials I cannot put in the BLUE-lidded bin?
Using your BLACK BOX you can recycle:
glass bottles & jars
cans
aerosols
aluminium foil
newspapers & magazines, and
textiles
---
Bins for recycling plastic and cardboard have a blue lid
and those for garden waste have a green lid.
What do we mean by household waste?
Household waste includes everything you throw away that can't be recycled in some way. It does not include:
Materials or items that can be recycled or composted by using kerbside collection services or local recycling facilities.
Things that need special disposal or recycling, including:
garden waste, parts from motor vehicles, DIY construction waste, clinical waste, chemicals used for the treatment of garden pests or diseases, paint, oil, waste electrical or electronic equipment or bulky household items.
Where should I keep it?
That really depends upon your circumstances, your property and where you have a suitable storage space. The wheelie bins take up no more space than a normal dustbin. You must not however keep your bin on a public right of way, pavement or highway.

Where do I put my bin for collection?
Please place your bin where you would normally put it on collection day. If there is a problem with this, please ring and let us know.
Household waste should be put out between 7pm on the day before collection and 7am on the collection day itself.
Please recover your bin as soon as possible after it has been emptied but no later than 7pm on collection day.
Some DOs and DON'Ts
Please ensure the lid of your bin is fully closed. This will prevent vermin or animals getting to your waste, and avoid damage to the bin lid while the bin is being emptied.
If you have excess waste that won't fit in your bin please place it in a plastic refuse sack alongside your bin. To reduce the possibility of unpleasant smells and the need to wash out the bin, put food waste and disposable nappies into plastic carriers, or wrap them in paper and double wrap. Bag pet excrement/litter before putting it into the bin. Please do not put hot ashes or coals directly into the bin. Please do not put liquid waste directly into the bin.

What if I find I cannot manage the bin?
Wheeled bins are usually much easier and safer to move than traditional dustbins. If you are infirm or disabled and unable to manage your bin, an assisted collection may be available to you. Please ring and one of our team will visit you.

What do we do with the waste we cannot put in the grey-lidded bin?
Recyclable materials. Kerbside recycling services are available to most households. Using your black box you can recycle: glass bottles and jars, cans, aerosols, aluminium foil, newspapers and magazines and textiles. Cardboard and plastic bottles are collected separately for recycling using Blue-lidded wheelie bins.

Garden waste.
If you cannot home compost it and don't want to use the optional kerbside collection service, (this is an optional, fortnightly collection service costing £26 per bin per year, using our new, green-lid wheeled bins, Please Note, green-lidded wheelie bins will be FREE from early 2012 - see top of this page)
you can take your garden waste to your nearest Household Waste and Recycling centre.

Bulky household waste.
The council provides a chargeable service to collect bulky items such as furniture, fridges, freezers, cookers, washing machines and waste electrical or electronic equipment. You can also take them to your nearest Household Waste and Recycling centre.

Fluorescent light tubes and low energy bulbs can be taken to your nearest Household Waste and Recycling centre for recycling.
All other household waste can be taken to your nearest Household Waste and Recycling centre.