Wilton Community Carnival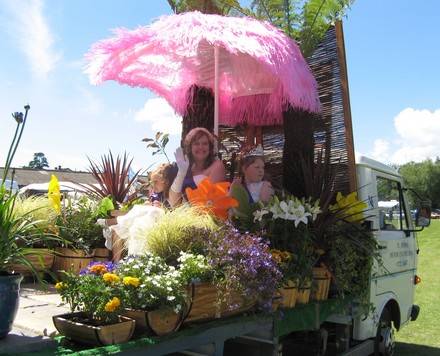 Welcome to Wilton Community Carnival Website. Please keep calling back Last updated: 19th April 2011.
Wilton is a small town just outside Salisbury in Wiltshire, England. It is actually much older than Salisbury; settlements go back to the 10th Century and it was once the Ancient Capital of Wessex. Wilton still retains this title!
Wilton Community Carnival takes place every year and also has a long and ancient history. The Community Carnival takes place in the Town between 30th June - 2nd July 2011. There will be a fun Pub Quiz at The Bear on Thursday 30th June and of course, Margaret's famous Carnival Bingo on Friday 1st July. The Bingo is sponsored and hosted by Edinburgh Woollen Mill and Wilton Shopping Village. Carnival Day is Saturday 2nd July 2011 and starts off with a Grand Procession with an "Animal Kingdom" theme through the Town. It will start at 12.30pm and feature The Mayor of Wilton and visiting Wiltshire Mayors and the wonderful Hampshire Caledonian Pipe Band. The procession will walk to Castle Meadows for a fun afternoon of events and activities. Castle Meadow offers FREE Admission and a packed afternoon of great family entertainments including a Novelty Dog Show. SPIRE FM will be broadcasting live and Chris Ewington will be there as well. Three great bands, Hampshire Caledonian Pipe Band, Wilton Royal British Legion Band, and covers band The Zucchinis will be playing. We have a Birds of Prey Displays from Country Pursuits, Wildlife Rescue and Hobby Horse racing. Loads for kids to do with John Caudrey's circus workshops and juggling show, face painters, fairground rides and inflatables, children's races, and Punch and Judy with Ticklish Allsorts. Looni Ballooni balloon modeller and clown will be doing his magic show and there will be an animal treasure hunt and a paper plane competition! See The Colton Dancers in the arena and the belly dancers too. Add BBQ food, bar, ices and donuts, stalls, car boots sales and classic cars and a steam engine and Wow! There will be a Grand Raffle in aid of Wilton's new sports pavilion on Castle Meadow. More to come - can you believe it?...keep calling back.
contact : Gary Nunn
Tel : 01722 744949
Email : garynunn@ntlworld.com