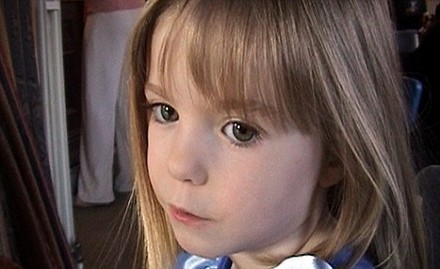 On a number of occasions I have posted pictures on this Web Site of the Missing Madeleine McCann being as I am empathic to her circumstance. Heaven knows what happened to the child, hopefully one day the truth of the matter will be apparent.
Papalscope had posted an 'A.P.B' (All points Bulletin) on the Internet on the 12th of May 2007, written in various languages from Portuguese through to Russian Arabic and Chinese, with the intent to draw attention to this missing child, for I was less than convinced that the Portuguese Police had by then done anything that useful. I believe one Policemen involved in the investigations was later dismissed, and that a book was written that was alleged to be defamatory to Madeleine's Parents. That couple sought to get an injunction to prevent publication, and were successful. This week they successfully fought an appeal against that original Court Judgement. (seemingly on a further temporary basis , according to the article published in the Mail on Line) :
http://www.dailymail.co.uk/news/worldnew s/article-1251964/Madeleine-McCann- Judge-upholds-ban-book-claiming- dead.html
Not too sure which the current status of the Daily Mail, but none the less one is indebted to it for the substance of this my Blog because the paper affords space for readers to comment on what it reports. Such comment is 'moderated in advance of publication.' Not sure if that implies that the paper is understandably cautious lest some might make unsuitable comment, or whether it prefers to be selective of comment made?
At the time of writing there are forty nine published comments on the article , it astounds one to read how vehemently anti Maddy's parents, an overwhelmingly large number of the comments made are, and how few in number those supportive of their cause. Here is an example of the latter:
'Every day I say a prayer that Maddie turns up safe and well. - hagar, blackpool uk, 18/2/2010 13:26'
Whether one is given to praying or not, surely most people would agree with the substance of this comment. It may surprise you to be told that a BALANCE of 161 persons who used a facility to vote on it, didn't agree.
So causing one - Ellie, Leicestershire, 18/2/2010 16:00 to write 'What sort of people would red arrow a comment like that. The sort of people who wish Madelaine harm, you ought to be totally ashamed of yourselves.'
That wasn't the worst of it ,one comment recorded as many as a balance of 438, anti the Parent votes. That particular total on the basis that the 'The Baby Sitting Arrangements' had been inadequate. Others didn't care for what they saw as a suppression of Free Speech by the Portuguese Courts, seemingly feeling that it was fine by them if some wished to publish an alleged Criminal Libel, as it used to be termed.
There is something very sick about our society today.
FIND MADDY WEB SITE
http://www.findmadeleine.com/