UNISON Salisbury Health Branch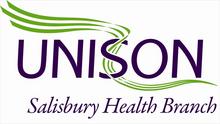 UNISON Salisbury Health Branch represents members who work for Salisbury NHS Foundation Trust and other non-NHS local health care providers. The Branch is part of the UNISON Health Care Service Group and the union's South West Region.
Branch Officers - Branch Secretary - Mark Wareham, Chair - Zara Salisbury, Treasurer - Denis Bangura, Health and Safety - Denis Bangura, Labour Link - Cllr Caroline Corbin, Equalities & Disabilities - Mehdi Belbahi, Welfare - Clare Christopher.
Branch contact details - Address - UNISON, Staff Side, Admin Block 25, Salisbury District Hospital, Salisbury, Wiltshire, SP2 8BJ Telephone 07503 448318 e- mail mark.wareham(@) nhs.net (without brackets)