UNISON in south Wiltshire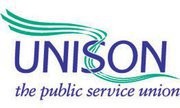 UNISON is the public service workers trade union. We represent members who work in a range of services such as local government, health care, utilities, police staff and community and voluntary services. We are the largest public services union in the UK. UNISON is affiliated nationally to the Trades Union Congress (TUC) and locally works closely with other sister trade unions.
In south Wiltshire UNISON is the union for you if you work for Salisbury NHS Foundation Trust, Wiltshire Council, Great Western and Swindon NHS Foundation Trust, Avon and Wiltshire Mental Health Partnership Trust, the 'civilian' services of Wiltshire Police and the support services at Salisbury College. We also cover many other local employers such as nursing and care homes and GP practices / surgeries. UNISON members are organised in local branches which are related to the public service sector (eg health, local government). To the left is a link to information about the Salisbury Health Branch of UNISON which covers Salisbury NHS Foundation Trust and non- NHS health care employers in south Wiltshire. For information about Wiltshire UNISON (which covers local government employers in the county - e.g. Wiltshire Council), Wiltshire and Avon Health (which covers Great Western and Swindon NHS Trust (inc Wiltshire Health and Care and Avon and Wiltshire Mental Health NHS Partnership - AWP) and Wiltshire Police branches of UNISON see the links page.
Whether you are a local government worker, cleaner, nurse, manager, catering assistant, admin assistant, secretary or professional and technical employee UNISON is the union for you. We are here to help you in your employment and can represent and advise on all work related matters. With the strength of the union we can help protect and improve your pay, terms and conditions of employment and help with individual problems and issues. We have a range of legal services and membership services such as holiday club and access to cheap loans. Join today by contacting UNISON on the local number, e-mail or the UNISON website (below) or ring UNISON Direct on 0800 0 857 857. Visit the UNISON website for details of our membership services, campaigns and policies.
contact : Mark Wareham
Tel : 07503 448318
Email : mark.wareham@nhs.net
Web : view the web site