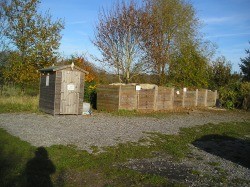 A load of Financial Compost. Tisbury Parish Council is the Proprietor of a Community Composting Scheme on a part of its Allotments Site.
The Parish Council Web Site advises that it was set up in 2005 as an initiative of 'THE WILTSHIRE WILD LIFE TRUST.' Undoubtedly therefore such was the case.* If one refers to the 'WWLT' web site one may view its Mission Statement in its entirety: http://www.wiltshirewildlife.org/Reducin gImpact/GreenGardening/PageTemplate.aspx .
It is there from , that I have cut and pasted this small section:
Home Composting Composting your biodegradable waste at home can help not only helps in the amount of rubbish going to landfill by is an important part of the nutrient cycle. It reduces the need to buy mulches and acts as a soil improver. A home compost bin is also home to a vast array of beneficial minibeast and micro- organisms and could help to attract other wildlife into your garden.
May one stress 'at home' 'Home Compost Bin' 'Attract wild life into your garden' 'Reduces the need to buy mulches'.
WHAT ON THE EARTH HAS ALL THAT TO DO WITH THE AVARICIOUS ECOLOGICALLY UNFRIENDLY MONSTER THAT TISBURY, but not of course West Tisbury, HARBOURS AND FINANCES?
Have we as a Village taken leave of our senses ? Is such a nonsense the price we have to pay for ignoring Democratic Processes? I make no pretence to have any sort of ability in Accountancy, but the TISBURY PARISH WEB SITE devotes a whole section to 'Allotments and the Composting scheme' whilst the TPC's Financial Statement devotes a whole section specifically to. 'COMMUNITY COMPOSTING'
I wonder why that should be so? Is the Parish Council trying to point out what an ill judged disaster this whole scheme seems to be? Up to December 1st 2009 our Parish Council has put £1000 of our money into this venture, and too there have been grants received so together totalling £3,750.00. And let us not forget the £583.48 received from the sale of COMPOST and DONATIONS. Donations ? What donations , why fore should there be donations. Maybe donations might better be given directly to The Wiltshire Wild Life Trust, which is a registered charity 266202, for donations paid to it might be GIFT AIDED.
Of course December 1st. Last year was some five months ago. Maybe if up to date accounts were available at the time of writing this one would find the situation changed. For one thing there was the recent request to finance ANOTHER COMPOST BIN, and too for a SHED to house the 'Shredder'. No doubt soon we will have to pay for someone to be trained to operate the machine to Health and Safety Standards, buy fuel for it, pay Insurance and for its servicing.
ECOLOGICALLY UNFRIENDLY ? What is the Carbon Footprint for all those car journeys needed to take biodegradable waste up through the Churchill Estate to the Allotments, where at the Allotment Tenants have the good sense to operate their own Compost Bins, as every sensible Gardener would. This scheme which does nothing for Wild Life, seems but another manifestation of the suburbanisation of TISBURY VILLAGE.
PLEASE MAY COMMON SENSE PREVAIL, AND LETS ABANDON THIS NONSENSE.
*There had been the suggestion that it had been inspired by Jim Henson's 'Marjory the Oracle Trash Heap' from the Muppet's Fraggle Rock.

Tisbury's AGM is on May 4th. 2010. Thursday, 29 April 2010