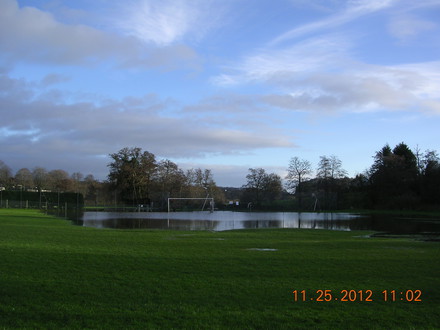 TIS THE FOOTBALL SEASON. The Team Bath.
A while back Tisbury offered employment to its inhabitants. Due to modernisation, Agricultural Work is on the wane, and the village is no more the mixed community it used to be. When it lost Parmiters, and employment at RAF Chilmark, The Sawmill ( that was supposed to be a site for affordable housing, but now accommodates Mallards Close.) and many smaller sites of employment, the local workforce had to seek employment elsewhere.
The right to buy their Council houses at a discount, tempted some of the fortunate few who bought theirs, to sell them to the highest bidder. More likely than not, someone who'd come here to retire, or who saw such housing as an income producing investment. Is not 20% of such UK housing, now in the hands of private landlords, who let them out at market rates? Now of course tenants are to be able to purchase property owned by Housing Associations at a discount. What's new? Freeholders of private properties let on a long lease were also required to sell to lease holding tenants at a valuation based on the ground rent, rather than its then current worth. They in turn did, as did the tenants of Social housing, sold the properties off at enormous profit, and having done so re-entered the housing market, and pocketed 'their' change, so causing a surge in demand that forced up the price of houses in every desirable corner of the UK. That too with other factors contributed to the current upsurge in homelessness.
Thank goodness all those Investing Landlords are offering those ex. Council houses back to Councils for use as a social housing !
NO DOUBT WE WILL HEAR THE SIREN CALL FOR LOCAL AFFORDABLE HOUSING. WELL THERE ISN'T GOING TO BE ANY. EITHER AT STATION WORKS OR ANYWHERE ELSE, SO DO NOT BE MISLEAD . THE 'AFFORDABLE HOUSING' AT WYNDHAM PLACE, IS STILL TOO COSTLY FOR THE WORKING MAN TO RENT OR BUY, LET ALONE THOSE WHO HAVE NO EMPLOYMENT. TISBURY NEEDS LOCAL EMPLOYMENT MORE THAN UNAFFORDABLE HOUSING.
Since we lost our Middle School, some of our children bus to School in Gillingham , whilst others being now in the 'Catchment Area' of Salisbury's two excellent Grammar Schools go there. Catholics can attend St.Edmund's School in Salisbury, or even St. Mary's Shaftesbury if of Grammar School ability. If one works elsewhere, and ones children are schooled elsewhere, the tendency is for such persons to shop elsewhere, so helpfully Tisbus runs shopping trips into Shaftesbury's Tesco. There are too, the free for some Red Buses; or the train to Salisbury or Gillingham. Tisbury is not an Island, so already has all the shops it needs, though there was call for one somewhere near Wyndham Place. Neither do we need more parking for the convenience of Commuters who live miles away nor have we any need for Tourists. Even so a small Caravan / Camping / Club Site might be an asset to the Village. That would be a worthwhile thing to finance from any spare money that comes our way.
It will be good if this currently distributed Tisbury Plan questionnaire, is filled in and returned by all who are eligible to do so, that the Parish Council may be advised of its electorate's actual wishes, rather than have to haphazardly deal out a series of ad hoc decisions that may reflect their own opinions, rather than those of the indigenous community. Some of whom wrongly think themselves ineligible to stand for election or co- option to the Parish Council, seeing it as something of a closed shop.