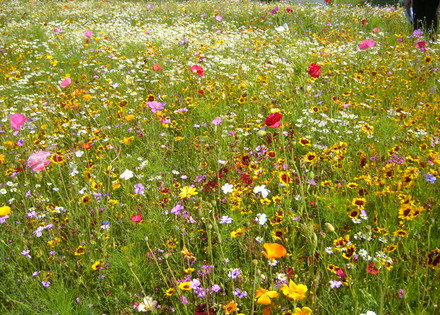 have nothing to do with the case, for these flowered at The New Forest and Hampshire Show at the end of last month. (Photo.Mrs P).
'The Lymington Times and New Milton Advertiser' took a stand there to celebrate its Seventieth Year as a successful Independent weekly broadsheet Publication. One still costing only 30p. Apart from full coverage of all local news, it is informative concerning New Forest governance, and generous about publishing readers' letters. It is largely due to that Newspaper that Political Awareness thrives in that area. There no Election goes unchallenged, nor is any Parish Council seat unfilled.
The Blackmore Vale Magazine is owned by the Daily Mail and General Trust. The Salisbury Journal and the Avon Advertiser etc. are owned by the Newsquest Media Group. www.gannett.com/about/map/newsquest.htm
Thus seemingly is American owned? Whilst locally our 'Community' Magazine Focus is owned by the Church.
Many moons ago Papalscope commended the Local Freebie 'The Valley News.' This month No.32 of Volume 2 was Published. I still commend it to you as an informative read, furthermore it is the only Independent local publication . These are early days for it, even so it has much the same campaigning style that the afore mentioned Lymington Paper has.
The Valley's August issue had a 'former failed' Conservative Candidate for the then 'Fovant' Ward Complaining that a more recently 'failed' Unitary Candidate for the Teffont Ward , had written an article that was self indulgence of the worst kind. ( he had represented Teffont for many years on the SDC)
Another former failed Independent Candidate for a New Forest Ward , wrote apparently 'defending' the recent Election Shambles, whilst a former Wilton District Councillor who stood down at its last Election, cut a swathe through Government Defence Policy. There is too, a long article attributed to a Wilton Resident that seemingly equates the welcome afforded to Islam with our laisse faire attitude to National Socialism in the Third Reich. (NSDAP)
Then too there is another letter from that same hot bed of concern from 'Name and Address Supplied Of Wilton) concerning the co-option of a local Town Councillor. With great respect to the views expressed, surely the writer had lost the plot? The Editor of T.V. N. seemingly hinting such to be the case. This letter though was in its own way of importance for it was illustrative of the Gulf there is between Governance and its Electorate. Clearly local Politicians are not getting the message across. Possibly it is not really their concern to do so but a little Leadership wouldn't go amiss.
Then there is a piece from K.P. of Teffont which rightly advises us that 'Brand Voting is not good for Democracy. That is a very old chestnut so far as I am concerned. At this moment the Minutes of the June 16th Tisbury Parish Council Meeting (09.06.41) record that our newly elected * Unitary Authority Councillor, had advised that;
'All Board Members* *considered themselves to be non Political with respect to dealing with local issues.'
Apparently they are all INDEPENDENTS after all. Why walk if one can hitch a ride? As Mr. Speaker Weatherill said
'If you want to get yourself elected, get yourself a Party, doesn't matter which, any Party will do'.
The System is a bit like Monopoly. Get elected and collect £9,000 or £20,000 of Council Tax Payer's money each year. According to 'The Valley News.'
Maybe 'The Valley News ' Freebie is but the mouthpiece of the disaffected and dispossessed ? One wouldn't know about that , however the remnants of our Democracy need it and others of its Ilk. Long may TVN survive. * Branded Conservative; **Tisbury area Board.
PARISH COUNCILLORS. This day there are two Notices in the Village appealing for a replacement member of the West Tisbury Parish Council. Presumably the vacancy is unfilled otherwise the Notices would have been taken down. What Inducements are proffered! Seemingly recent topics discussed included the Hindon Lane Development, and the Car Parking situation in TISBURY. Neither is the Parochial concern of WEST TISBURY. It should be but it isn't. West Tisbury too likes to ride Piggyback. If TISBURY PARISH Affairs so concern you of Tisbury West, amalgamate with us. Your interests are our interests too. Apart from your exclusion from Tisbury Parish Affairs Council Tax Payers money is being wasted unnecessarily .Maybe WTPC needs to look to the future, for sure as eggs is eggs there is no room for two Parish Councils in this Village.
The last one heard of The Tisbury Parish Council was that it also was short of a member, not to mention those members who seem unable to attend Parish Council Meetings. I know when Parish Council Meetings are held each month, and if as a member of the Public I see the need to attend one, arrange my affairs accordingly. If Parish Councillors regularly find themselves unable so to do, possibly they would do well to resign, otherwise we in the Village are seemingly stuck with them until 2013, happily not until 2113 as recently mistyped.
Sunday, 16 August 2009 * Branded Conservative ** (for the Tisbury Area)