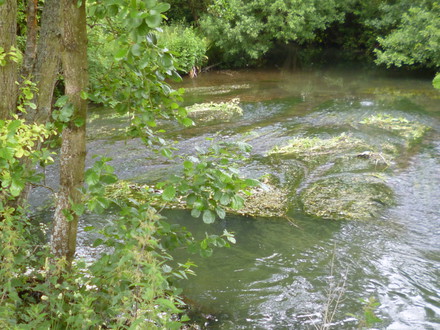 POLLUTION OF THE RIVER NADDER. Living as we do downstream of the Tisbury Water Reclamation Works, those who pass by exclaim how idyllic the scene is, and rightly so, especially when its but garden blossom that scents the air. The lady who happened to sample the Nadder Water today for Analysis, said that she had wondered which the smell.
She had too so timed her visit, to happen on to the Off-Cuts of a Strimmer operating up stream, occasioning down stream islets, as the flotsom snagged on weeds, or was caught in Nooks and Crannies . Nothing too pernicious as the Balsam was not as yet in flower, and of course as ever I will be able to clear obstructions when next in the river tending excessive weed growth. What's new, been doing that for some thirty five years now to the alarm of a local 'water man' who said he'd never dream of immersing anything personal in the water down stream of the water works.
THAT BEING SO , WOULD IT NOT BE A HELPFUL, IF ALL REFRAINED FROM POLLUTING THE NADDER WITH NOT ONLY STRIMMINGS BUT TOO LAWN MOWINGS THAT'HAPPEN' TO SLIDE INTO THE WATER FROM POORLY SITED GRASS HEAPS?
Incidentally the cement cat stolen from a niche on Quarry Lane's Nadder Bridge, remains stolen, as too the tops of four staddle stones previously stolen from on Quarry Lane. The Latter won't be replaced ! Never mentioned the cat's theft to the Police, they are a bit busy. I am scheduled to make a statement about another matter, but they can't meet up until Sunday.
Why not book an appointment on 101 now, for something or another is bound to need reporting by any date offered.
BROADBAND. Great to hear that internet speeds are so good on the new Fry's Estate, however on the eastern frontier our speed is 1.1-/97 download and 0.62-/0.78 upload. Which of course is no where near what was promised, but ISP's are entitled to claim speeds obtainable by 10% of its clients, where so ever they are. Surely Broadband should be costed in proportion to the speeds actually delivered. Doing anything else borders on dishonesty. One reads that the whole of Tisbury Parish is to be upgraded. Let Out Reach please be aware that SP3 6LY is of the Parish too.
FACEBOOK. Did at one stage find myself ensnared by Facebook. Its something I do not really understand, so have scant involvement with. On such account its proprietors offer me persons who might wish to befriend me. Most are either connections of my immediate family, or seemingly those of friends, whom on a reciprocal basis one knows not from Adam. Currently one is offered the possibility of befriendment by several dozen delightful looking folk, some of whom seem to be children down to 'the third (if not) the fourth generation.' Surely it can not be right to tell unknown third parties, how in a round about sort of a way one might be connected , but more importantly than that, even be advised how such persons are connected to each other. Such information might cause embarrassment to some, if not exploitation by others.
NEIGHBOURHOOD PLAN. Submissions should already be lodged. My finger in the plot, was that Station Works should be used as a place of employment for succeeding generations, and certainly not for 'allegedly' affordable housing. Such was the conclusion of that TisVis Questionnaire. I reiterated my belief that Tisbury needs but one Parish Council, rather than two.
One appreciates that the grounds of The Sacred Heart are the property of the Clifton Dioceses of the Catholic Church, and that the now cleared site immediately to its North is also privately owned and that's its redevelopment has been embarked upon. HOWEVER what a possible opportunity has been missed for the construction of a Community Centre/Hall, which had easy access to the Parish Car Park, The Playing Field and the Railway Station, not to forget the Residents of both Tisbury and West Tisbury. We shall see what we shall see, but in the meantime I append a photograph of both sites taken last Sunday. JBP 25th.June 2015.