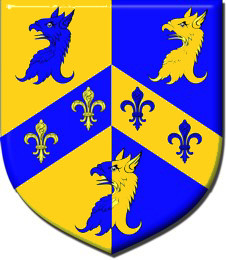 It was my wife who caused our Party to elevate itself to the top gallery of Salisbury Cathedral Spire. We thought our family group might have been the weakest link in the tour's chain as we included both the Oldest and Youngest participants, but we got away with it , as another seemed doubtful that anyone making the ascent or even coming down was anything but foolhardy.
Well of course we toured the Cathedral too, had done so before but there is always something new to see. Having the Grand Children with us I thought to show them the Memorial to Bishop Alexander Hyde whose son Robert In 1640, married first their way back Cousin Finetta. However the chap had scaffolding around him so we didn't bother. Alexander's Father another Lawrence is amongst those depicted on the very fine 'Hyde Brass' in St. John's Church Tisbury. Although I was aware of Finetta's Marriage, never received an invitation to attend) One knew that Robert and Finetta had set up home in Dinton, and that in the Church there is mention of Finetta and her Husband in a Brass recording the origin of the Hyde Parker Family, which sprung from Robert's sister.
What I had never appreciated was that before her death in 1700, Finetta had as Robert's wife , been Mistress of both Hatch House Tisbury ,and Heale House in the Woodford Valley, The Gardens of which I have visited as but a paying customer. Lady Finetta Downe, whose sister married Lord Keeper North, was a daughter and co-heiress of the Third and last Earl of Downe of that creation, she was thereby a niece of 'our rich Uncle' Sir Thomas Pope of Tyttenhangar, who under Thomas Cromwell became Treasurer of the Court of Augmentations. He coincidentally acquiring an immense personal fortune whilst in Office, became Guardian of the young Princess Elizabeth, after Henry Beddingfield.
(I acquired a fine steel engraving of the Princess at the recent Hospice Fete held at Hatch House, a common enough depiction however this crisp engraving dated back to the late nineteenth Century. I also bought there a book concerning the late Dick Hern the Race Horse Trainer, a close friend of a contemporary Cousin who is also depicted. So at least we have an affinity to The Garden which has had a make over since Lady Finetta's time there.)
With Part of his Money Sir Thomas Pope founded and endowed Trinity College Oxford, and various Grammar Schools, but too passed much of his fortune to his Brother John Pope of Wroxton Abbey, the freehold of which had been given to Trinity. The family later raised Troops and fought for the King at the Battle of Edge hill, and for its pains lost much of its fortune. (Cromwell to Cromwell in three Generations maybe?)
In his book, King Charles 11, Arthur Bryant relates of the part played by an alleged Butler, one John Pope in the flight of the King via Hele House. This John who had been Page to the then Prince when he lived at Richmond, was in fact a son of 'our' Earl's family, and had he outlived the third Earl he could have become the fourth. The Edmund Wyndham mentioned in this Flight was the Father of Jane Wyndham of Somerset, who became The First Earl of Downe's third wife.