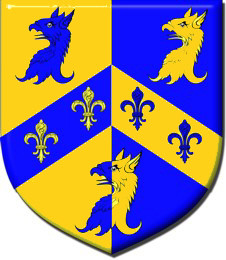 Finetta Downe's Brother in Law Lord Keeper North said as he took his last breath on the 5th. September 1685
'It will not do.'
Quite clearly he forsaw that the Burghers of Tisbury would missname its Executive Housing Estate 'LADYDOWN, rather than more properly LADY DOWNE. For the area was I believe originally named after
Lady Finetta Downe a daughter of Thomas 3rd Earl of Downe , she a joint Heiress of her brother the fourth and last Earl of that Creation. This lady married Robert Hyde of Heale and Hatch and Dinton three hundred and forty years ago this week.(4th. May 1674.) Robert was the younger son, but heir of Alexander the Bishop of Salisbury, who was himself a son of Lawrence Hyde progenitor of all commemerated on that fine Brass in St.John's Parish Church Tisbury. Finetta was the mother of two Hyde Sons, and one daughter who died shorthy after her baptism at St. John's. Lady Finetta died 16th. October 1700. Whilst the first Earl of Downe had taken as his third wife, Jane Wyndham, Robert Hyde as a widower married Arundel Penruddock.
Its nice to see History recorded in local place names, which is why I named our house after the family who built it in 1833. Recently its name was confused with that of an alleged debtor at the not disimilar address of a new Tisbury Housing Development. Had to let the Yorkshire Police sort that out for us. A while back when Dinton Parish Council was invited to name a new Housing Estate it asked the Public to submit names for its consideration. Possibly it might be a good idea for Tisbury Parish Council to invite suggestions next time it is asked to name a new housing development. I do not recall any such consultation over, Wyndham Place, or Ladydown, or the Tanyard, or Parsons Mead etc. I wouldnt know what happened at The Mallards, for of course that isn't in Tisbury Parish Council's domain.