Embroiderers' Guild in Salisbury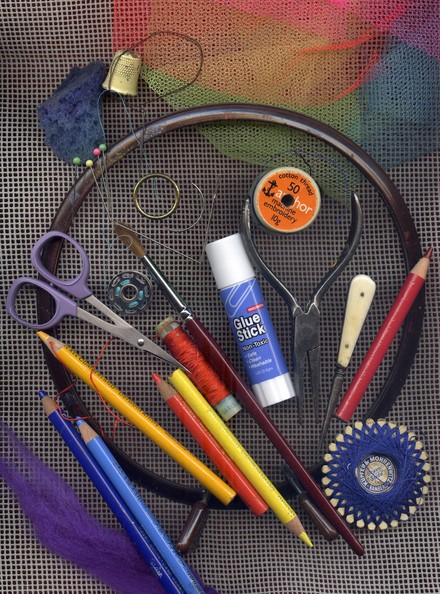 WE ARE FOR those who enjoy 'Embroidery'- the embellishment and manipulation of fabric and fibres in all forms, flat, 3D and low relief. In other words, everything to do with textiles, thread, colour and texture... Embroidery ranges from the work of YBA Tracey Emin and clothes designer Manish Arora to the frontals, hassocks and robes found in Salisbury Cathedral and your local Church via such stuff as flower stitched jeans, crazy patchwork, soft sculpture & quilting, cording, cross- stitch, canvas-work, and creative use of the sewing machine... You'll find us with felt, papier mache, leather, lace and soldering irons.
EMBROIDERY needn't be terribly precious, fine or fiddly. People can use whatever they like if it helps produce desired effects - organza or old bricks, real gold thread or the 'gold' plastic wrappers from food. Paint, print, stitch, paper, glue, canvas and clay - Embroiderers are allowed to do anything, including fun. Have a look at the Salisbury Hospital lobby panel.
MEETINGS: twice most months, an afternoon and an evening, usually with a speaker. Afternoon meetings are: 2nd Thursday, 2pm (doors open for coffee etc at 1pm) St George's Church Hall, Lower Street, Harnham, Salisbury SP2 8EY. Evening meetings are 3rd Wednesday, 7pm, at Godolphin School Library, Milford Hill SP1 2RA. It doesn't matter if interest is appreciation more than activity, all are very welcome. Come along to meet like minds. We are all sorts. Visitors £3. For 2011 details, see link to web site below
contact : Heather Balston
Avoncroft
Mill Lane
Stratford-sub-Castle
Salisbury
SP1 3LJ
Tel : 01722 41 16 28
Email : hbalston@tiscali.co.uk
Web : view the web site